A native Floridian, Emily Blandon Kovar has been playing the Piano since she was 13 years old and is now completing her Master of Music degree in Piano Performance at the University of Georgia under the direction of Dr. Martha Thomas. Initially a Bassoonist studying under Fernando Traba of the Sarasota Orchestra, Emily decided to pursue her love of music further at Interlochen center for the arts in 2011 and quickly discovered her love of all Keyboard instruments, including the Piano and Pipe Organ.
Emily's repertoire as a pianist is diverse, covering everything from Bach and Chopin to lesser-known composers like Brett Dean. Emily is an avid chamber musician and enjoys collaborative playing, recently having performed Schubert's Piano Quintet in A major "Trout", D. 667 in June of 2017. She also recently presented a solo performance of Debussy's Etude 1: pour les cinq doigts d'après Monsieur Czerny (five fingers, "after Monsieur Czerny") at the UGA piano symposium in January 2019 (as pictured below).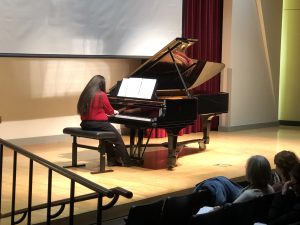 We are excited to have a musician of her caliber join our team of teachers! In addition to performing, Emily is an excellent teacher and enjoys sharing her love of music with people of all ages.